Goorambat Railway Hotel
The Goorambat Railway Hotel is a historic little pub, offering a huge range of great food, beer, wine and service at excellent prices. Located 15 Mins from Benalla and directly opposite the magnificent Clydesdale horse silo. Open for lunch, dinner and drinks, with indoor and outdoor dining facilities, it also has a children's indoor playroom. Wide selection of drinks and food available, and they were able to serve takeaways throughout the COVID lockdowns. Landlords: Jacqui Coleman and Mark Beavis. Call (03) 5764 1206. Check out their extensive menu here.
Email them at goorambatrailwayhotel@gmail.com or call (03) 5764 1206, or check them out on Facebook.
Find out more about the history of the Goorambat Railway Hotel and other long-gone historic Goorambat pubs.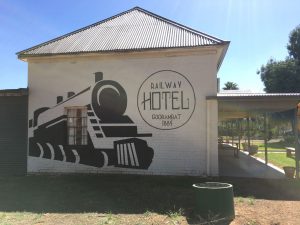 Devenish Railway Hotel – Est. 1884
Also known as the Devenish Community Hotel, this Country Classic pub is located directly opposite the famous Devenish silo art. The pub is run by Stewart and Carolyn Ottosen – known as Stu and Caz by the locals – and is particularly famous for its amazing Devonshire Teas, served all day, as well as for their great Sunday lunches and fabulous Parma Nights (Thursdays). A definite stop on the way through town on the Silo Art Trail…sit on the verandah having a Beer or Coffee viewing the Silo Art by Cam Scale. What more could you ask for? 
Note: Caz and Stu have recently reopened following extensive renovations which took place during COVID. Come and see what they have done! 
Call (03) 5764 4375 or email them at carolyn.ottosen@bigpond.com to book, or check them out on their Facebook page.
St James Country Hotel
The St James Country Hotel is a traditional country pub, directly opposite the painted silos. It still has a lot of the original art deco features, and is an easy place for locals and tourists to grab a great meal and a cold beer. With a large games room out the back as well as a playground, there is also a games room which doubles as a fabulous events room.
Located in the Shire of Moira 238kms North of Melbourne 20 minutes from the Vic/NSW border town of Yarrawonga, and less than 30 minutes' drive from Benalla. 10 comfortable rooms available to rent. Public bar, Dining room, beer garden. Award-winning meals at the brand new El Toro Grill restaurant check out the menu at the St James Country Hotel Facebook page
Call (03) 5764 4211 to book, the terrific new hosts are Mel, Mia and Noel Connell.
Find the menu here:     St James Country Hotel Menu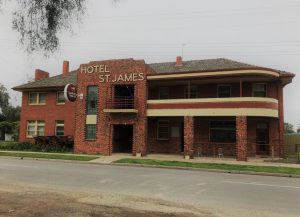 Tungamah Hotel
Situated at 38 Barr Street, Tungamah, this beautiful old pub is heritage listed. It was built in 1891, replacing the earlier one on the same site which was destroyed by fire.
Open 7 days, meals Wednesday to Sunday.
View the delicious menu here:  Tungamah Pub Menu
Call (03) 5748 5055 to book, email them, or visit their Facebook page.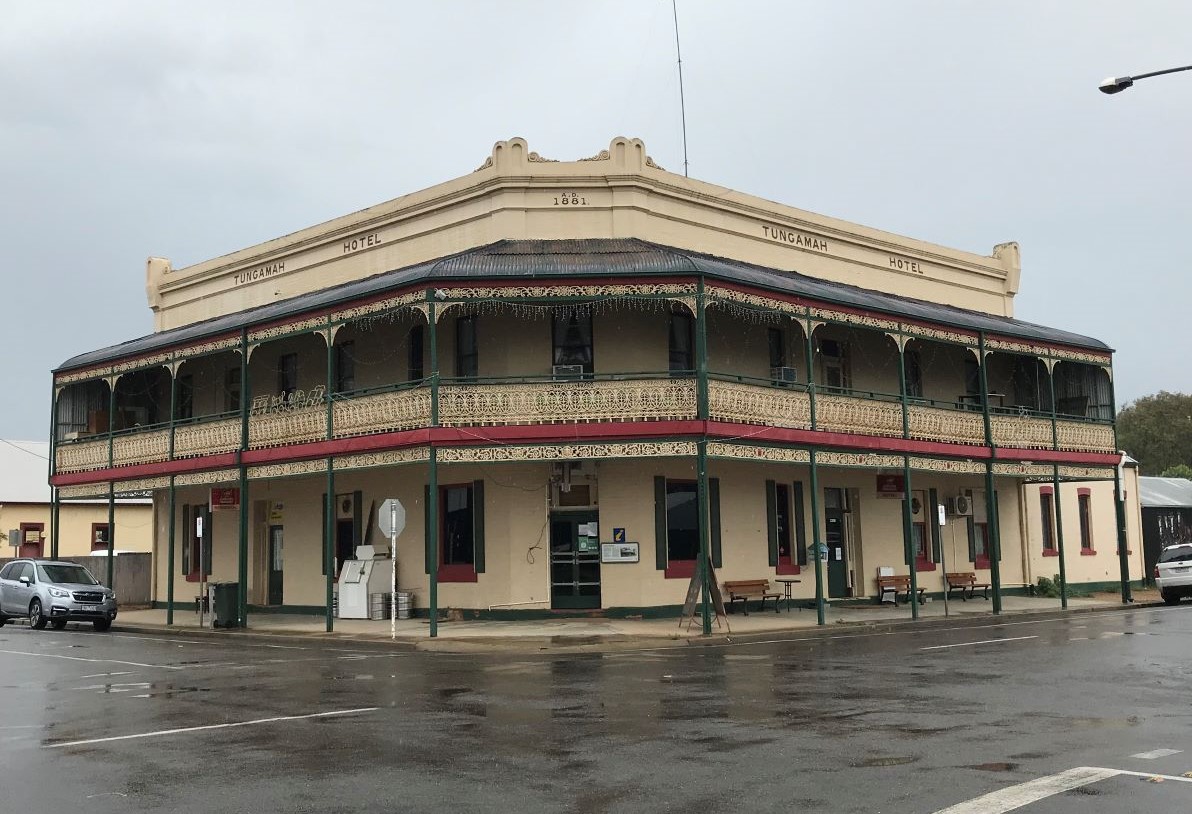 Dookie – Gladstone Hotel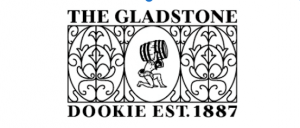 The Gladstone Hotel is located in Dookie's main street – Mary Street – and regularly hosts locals and welcomes visitor from near and far. Built during Victorian Era, this family hotel caters to small and large groups, regular club and committee dinner meetings, or for those just wanting to stop for a drink with friends.
The large indoor Bistro room offers the hotel's standard menu of pub-meal favourites as well as Chef's Specials. The Federation décor, along with cosy open fires add a very comfortable ambiance to eating in the cooler months. The corrugated iron and wood Main Bar pay tribute to the farming heritage and community of the area, along with its wool bale stencils of local farmers, both past and present. A special feature of the hotel is the dining experience option on The Balcony for both a pre-dinner drinks and sit-down dining. The renovated hotel beer garden offers rustic seating for 30 people along with a semi-outdoor pool room, juke box and pizza oven.
Owners: Bryan and Val Florence. Call (03) 5828 6237 for restaurant bookings. No accommodation at present.
COVID Trading hours (until further notice): Tuesday-Thursday: 3.30pm till late, Friday-Sunday: 11am till late.   Monday: Closed.
Menus: 
Katamatite – Boosey Creek Tavern
Boosey Creek Cafe and Tavern is situated on the main street in Katamatite (31 Beek Street). Just a short drive from the grain silo site, which is soon to be painted.
At present the Cafe is open Monday to Friday 7am to 3pm. Cafe serves breakfast, coffee & cakes, takeaway food including fried food, hamburgers, steak sandwiches. Bottle shop included (within the Cafe) with take away alcohol.